My Bicicapace cargo bike—it's Italian
I've had the Bicicapace for nearly three years. Has it been worth keeping? It's the most expensive bicycle I've owned but it's also been the best bicycle I've ever had or ridden.
When I started looking for a cargo bike in the spring of 2013 I had no clue what I was looking for, all I knew was that it had to transport enough food that I was going to make and also allow me to use it for just casual riding. I started looking at Dutch bikes, American long bikes, custom made bikes. It was all super confusing! Some of these bikes were very heavy, not practical for my use, too expensive and some reviews I'd read were not great. Things started to look better when I came across London Green Cycles and a conversation I had with Rob from Really Useful Bikes. The bike I wanted was small enough but with a large carrying capacity and in my price range—it was the Bicicapace. A beautiful handmade Italian cargo bicycle.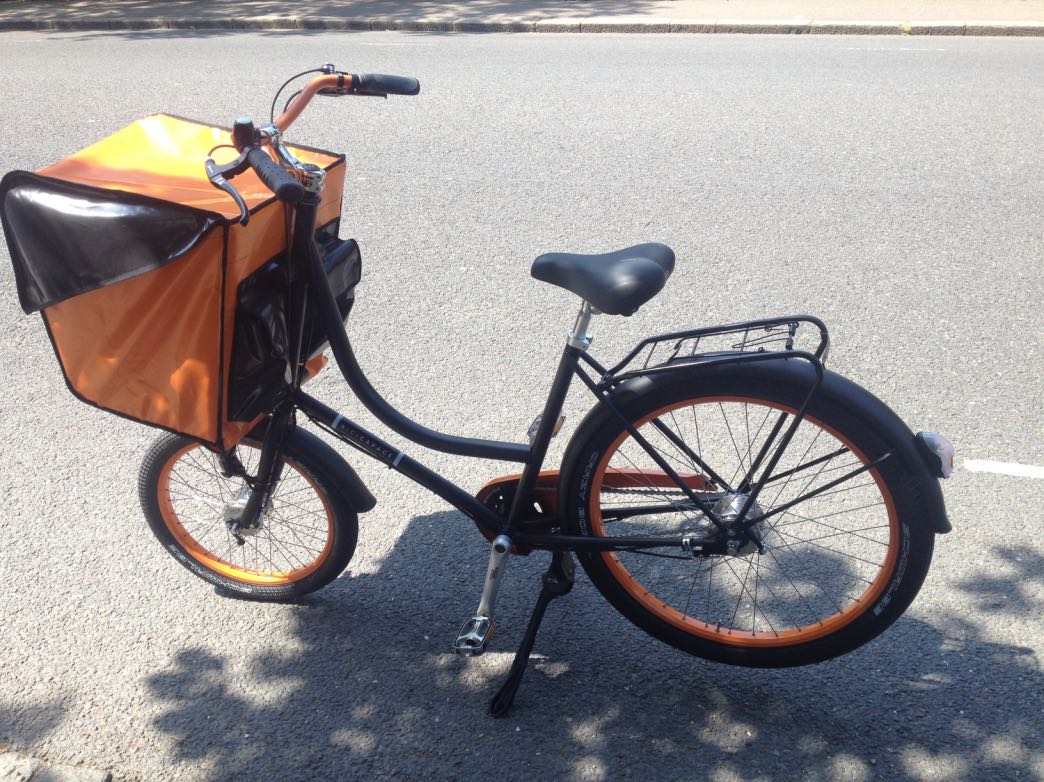 Testing bike around Primrose Hill and Regents Park London
London Green Cycles had a demonstrator! I drove to London after spoking to the lovely people there and took the Biccapace for a test ride around Primrose Hill. The demonstrator had three gears and I wanted to make sure it would meet my requirements to cycle up hills. I've never enjoyed riding a bicycle as much as this! It was a complete breath of fresh air. And the best part is that I could carry lots of things if required without interfering with my riding. I was sold!
I bought the second Bicicapace they had in stock because I preferred the colour scheme of that one—it still had three gears. There is an option to have one with seven gears. They got the bicycle ready for me on the same day to take back with me to Leicester. The only extras I had put on was the pannier rack and frame lock. It already came with dynamo powered lights, hub brakes and a large 70lt waterproof front bag that is good for carrying up to 60kg!
"Cycling should not mean that you have to wear Lycra or sports gear—you should be able to just get on your bicycle and use it for more than just getting fit."
I've had a few problems with it—one which was sorted out by London Green Cycles very quickly. A strange clicking sound coming from the crank a few months after riding the bicycle but they knew what it was and instructed a bike shop here in Leicester what to do and paid for the repairs. Brilliant service! My second problem—punctures, two within two weeks. Just what I needed—not! I don't think the standard tyres they fit are good enough. I decided to fit Schwalbe Marathon Plus road tyres. The ride has improved even more and no more punctures—apart from someone pushing a pin through the side of the tyre. :(
Apart from the above I only have good things to say about the Bicicapace. People stop me to have chat about the bike or just have a chat. Lots of young people have said what a cool bike it is. There is much to like about this bicycle from it's looks, it's small size, great riding position, carrying capacity. It brings so much freedom to my daily life. I've cycled for thousands of kilometres, on hots days, in pouring rain, in the cold, on windy days, up really steep hills fully loaded and it has performed magnificently throughout.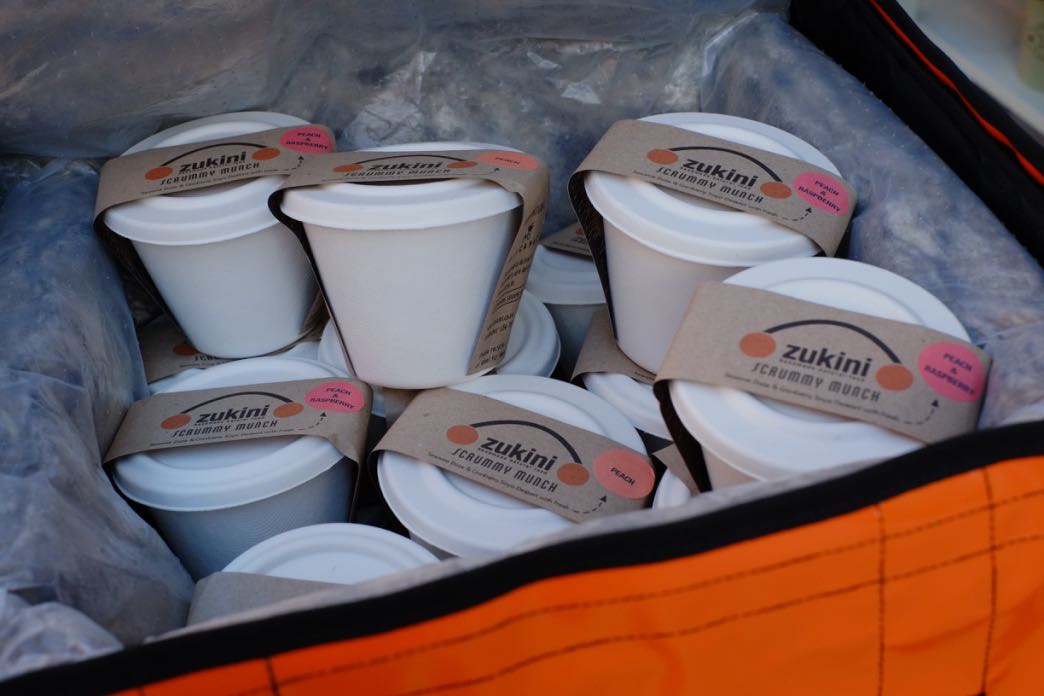 It can carry about 40 of these containers with insulation—more without
It's only now that I'm finding the 70lt carrying capacity limiting. I'm not sure what I'll do. I did add bags to the rear pannier but even then I sometimes need to carry more heavy items. Bicicapace are making a new model called Justlong—maybe a rear box fitted to that would meet my needs plus the front bag?
The only problem I have with using the bicycle here in Leicester is that our cycling infrastructure is not great—in terms of routes and the quality of surfaces. When I was using the Biccapace for transporting food I would end up with boxes that had leaked because of poor surfaces—it's a joke but that's another story. The bicycle has been looked after but nothing excessive and it's in great condition. Maintenance costs so far have been about £140 over nearly three years. That's so much cheaper than a car! The only other money I've spent has been for the rear bags which I bought from Really Useful Bikes for about £60.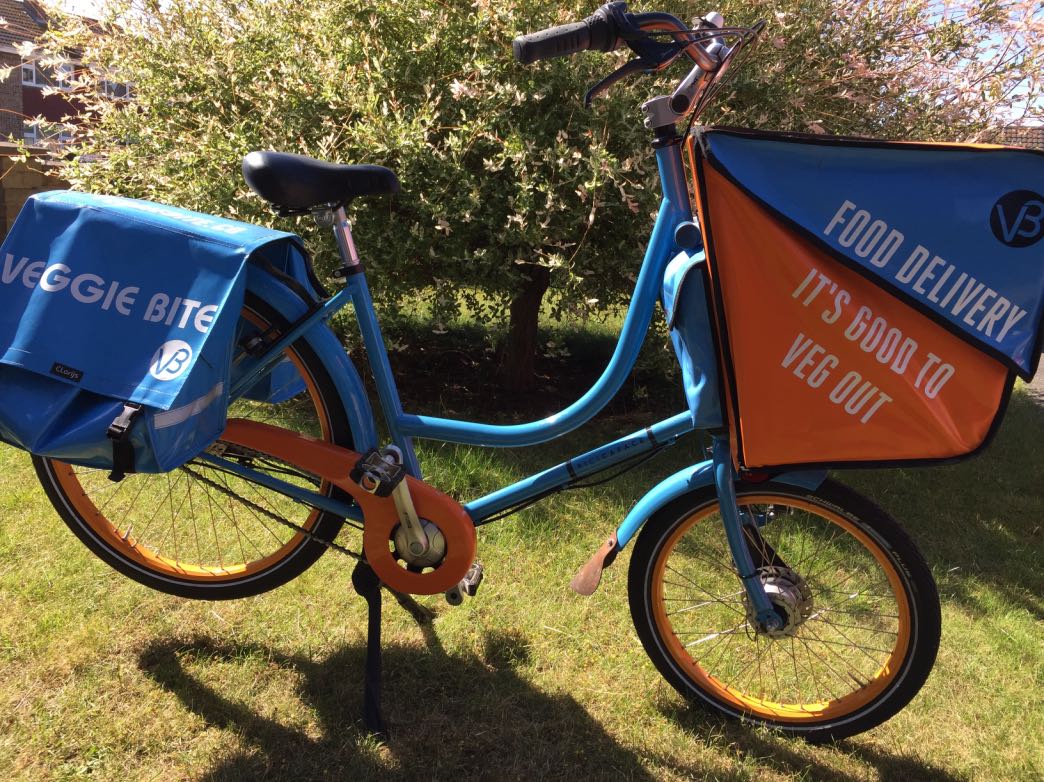 The decals are no longer on the bike, apart from that it looks just as good
The best part of owning the Bicicapace is all the conversations I've had with people over the last three years and I still meet new people today—truly priceless.
Cycling is an important part of the future and especially cargo bikes. If you've not tried one do so—it's a game changer. I cannot recommend the Bicicapace enough, it's one of the best handmade cargo bicycles produced today.
You can find more information about the Bicicapace from their website.