Veggie burg—it's seriously good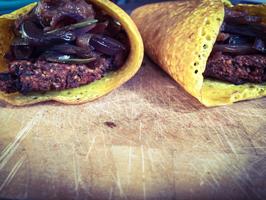 Something bugged me in February 2015 - this BBC news article.
And so I made something to show you how good plant based foods can taste, how healthy they can be and fairly easy to make. I once made it for a group of people who came to one my food workshops, everyone loved the 'Veggie Burg' and wanted seconds. Some even said I should sell them in shops. Below is the recipe for making this delicious food and to share with everyone.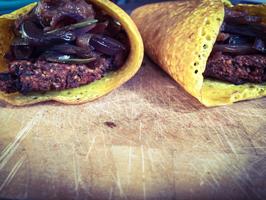 You'll need a food processor to make the black bean patty mixture. If you do not have a food processor, you could make the mixture in a large bowl and use your hands to mix everything well. It will take a little longer to mix. Making the wraps is optional - you can use ready made wraps or buns. The wraps are gluten free.
Ingredients for the black bean patties
400g Black beans

1 cup sunflower seeds

8 sun dried tomatoes

1 to 2 medium to large cloves garlic chopped roughly

2½ tbsp tomato paste

1½  tbsp balsamic vinegar

1 tsp mustard

½ onion chopped roughly

2  tablespoons fresh oregano, chopped or 2 tsp dried oregano)

½ tsp sea salt
freshly ground black pepper to taste
½ cup rolled oats (you can get gluten free)

¼ cup diced red pepper
Method
Grind the sunflower seeds and dried tomatoes.

Put all the ingredients, except the sunflower seeds and oats into a food processor.

Mix everything well.

Add the sunflower and oats - mix well.

Set aside in a bowl and place in the fridge for about an hour or you can keep until you are ready to use the mixture. Should keep for a week.

When you are ready to make the bean patties - shape them as flat cakes - size of your hand. Then cook in the oven at 180C 350F Gas 4 for 15 minutes - then turn and cook for another 5 minutes.
Ingredients for rosemary onions
4 red onions sliced

3 large sprigs of fresh rosemary

2 tbsp tamari sauce

1 tbsp coconut oil - olive oil is okay
Method
Add oil to a heavy pan with lid.

Once oil is hot add onions, tamari sauce and rosemary - mix well. Let the onions simmer on a low heat for about 20 to 30 minutes. Stir the onions occasionally.

Remove the rosemary.
Ingredients for the gram flour wraps
200g gram flour

500ml water

¼ tsp turmeric powder

¼ tsp cayenne pepper

¼ tsp salt
Method
Add all the ingredients except the water and mix well.

Add half the water and mix well with a whisk. Then add the rest of the water and mix well.

Set aside the batter for about 20 minutes.

To make the wraps, use a fry or crepe pan - heat the pan.

Once the pan reaches temperature you may need to add a small amount of oil - use coconut oil as it has a high smoke point. Use a medium to low heat.

Use a large ladle to fill with the batter, then add slowly to the pan and make sure the batter spreads evenly around the pan.

Once the batter has started to dry on the top and the edges start to lift slightly, flip the wrap and cook for about 40 seconds.

Each wrap should not take more than several minutes to make.

Use a dish with a paper towel at the bottom to stack the wraps on.
Assembly
Place the bean patty onto the wrap - one patty cut into two per wrap is good. Then add the onions and you can add a sweet/chilli pickle on top. Fold the wrap and you're ready to eat! Or you could make the rest—enjoy :)