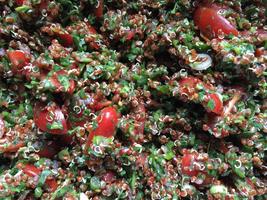 An alternative way of making tabbouleh using Quinoa instead of Cous Cous—it works really well. Most people I have given this to prefer it to the Cous Cous version and it's so easy to make.
Have it as main, side salad, take it to work—it's very versitle. It will keep for at least five days in the fridge.
Ingredients
1 cup of cooked Quinoa

250g cherry tomatoes cut in half

1 bunch spring onions sliced thinly

1 bunch of coriander chopped finely

1 large handful of mint chopped finely

2 small lemons juiced

1 tsp ground cumin

Salt & pepper to taste

Olive oil add as required (optional)
The method
Place all the raw ingredients, spices, lemon juice and olive oil in a large bowl. Let the cooked Quinoa cool before adding it to the bowl. Drain any excess water if it has any. Mix all the ingredients thoroughly and leave for a few hours. Ideally it should be served at room temperature. It's that simple!