Orange cake made from seeds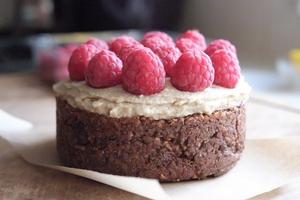 Yes it's made using sunflower seeds but it really works! It was the best selling cake I made when I was running my vegan food delivery service and it's super simple to make. Also no refined sugar is used—it's sweetened with just dates and raisins, gluten free too!
Ingredients
1 cup sunflower seeds grind in a blender first

1 cup dates to the sunflower seeds and blend at a low speed 3 tbsp chia seeds

1 vanilla bean scraped

1 orange - zest and juice

1⁄3 cup raisins

1 tbsp melted coconut or olive oil
Method
Preheat oven to 160oC 325F Gas 3.

Mix chia seeds and 130ml of water, leave for about 10 minutes 3. Grease two 11cm or one 18cm spring form pan but you'll need adjust the cooking time for the larger pan.

Grate orange zest into a large mixing bowl. Then add juice and raisins into bowl. Mix and leave for about 10 minutes.

Add sunflower/date mix to the bowl and then add the soaked chia seeds and pour the oil on top. Mix all the ingredients thoroughly. Then add the mixture to the spring form pan and evenly spread it while gently pressing the mixture down to make sure the sides are covered.

Bake for 25 to 30 minutes. If a skewer comes out clean—the cake is ready. Let the cake cool completely before serving and adding any topping if you want.
Cashew nut cream
Ingredients
1 cup of soaked cashew nuts

1 to 2 ripe pears or apples peeled cut into pieces 1⁄2 cup of soaked dates

1 vanilla bean scraped

1 small lemon juiced
Method
In a blender add the pear or apple and blend until liquid.

Add dates and blend until roughly chopped into small pieces.

Add cashews, vanilla and lemon juice and blend until smooth.