A simple versatile flat leaf parsely pesto recipe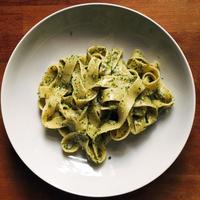 Who doesn't love pesto? And it's so versatile, you don't just have to use it with pasta, you could use it as a spread to make a tasty sandwich. Another reason I love it so much, is that you can make it and keep it for a week.
You can make pesto from basil, flat leaf parsley, coriander. My favourite is flat leaf parsley and this is the recipe I'm going to show you below.
I just want to talk about oil—specifically olive oil. Olive oil is not bad for you, as long as it's not heated to really high temperatures. So don't be scared about using it in your food preparation.
You will need a food processor for this recipe but you won't need anything fancy. I'm using a simple chopper attachment for my handheld blender—it works just fine. Another advantage is that it's small, so I can make smaller quantities.
Ingredients
Large handful of flat leaf parsley chopped in rough sections, including the stalks.

2 cloves of garlic.

Handful of walnuts.

Juice of a lemon.

Olive oil—about a 100ml or more.

Salt to taste.
Method
Add all the ingredients into your food processor of choice.

Blend until a sauce like consistency is achieved but you don't want it too smooth—there needs to be some texture to make it more interesting. If it's too thick, just add some more olive oil and blend again.

There is no step three—enjoy! :)
If you're not going to use it straightaway, then just store it in an airtight container in the fridge. It should keep well for about a week.
Don't just use it for pasta—use your imagination! How about a sandwich spread or make an alternative to a normal garlic bread?