Pasta and flat leaf parsley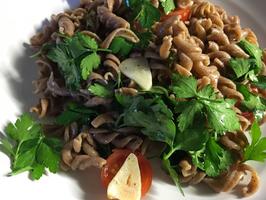 Sometimes I just want pasta without the sauce! I could make a vegan pesto but I like something even more simple—flat leaf parsley, garlic and olive oil. Three ingredients to make your pasta seriously yummy. And best of all—it's so easy to make. I'm a big fan of uncomplicated things—food being one of them. Just because it's so simple does not mean it lacks flavour or texture.
Ingredients
Pasta—spirals, twists or penne work well

Half a bunch of flat leaf parsley

Two cloves of garlic

Handful of cherry tomatoes (optional)

Olive oil

Salt and pepper
Method
Heat water in a large pan.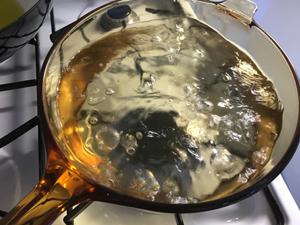 While that's happening wash the parsley and pick the leaves—set aside. Cut the garlic into thin slices and put into a large pan with olive oil. Cut the cherry tomatoes in half—set aside.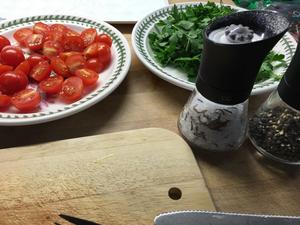 Once the water starts to boil add the pasta—I put about five to six handfuls for two people. Gently stir the pasta for a few seconds to separate it. The pasta will only take a few minutes to cook so keep an eye on it!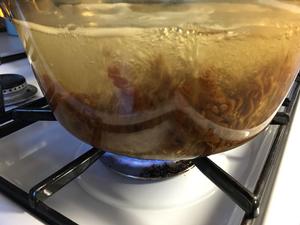 While the past is cooking gently heat the olive oil so that it gets warm enough to release the flavour of the garlic into the oil. Once it gets hot enough turn off the heat—you don't want to cook the garlic. Add the tomatoes and seasoning—mix well—they will cook a little from the heat of the oil.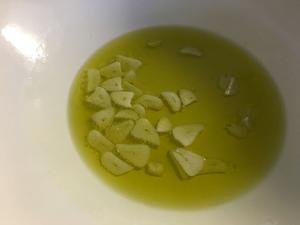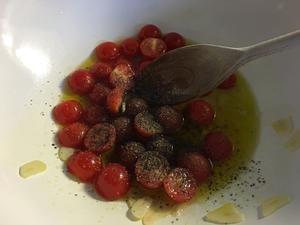 Check pasta—when you're happy with it drain off the water and add it to the olive oil/garlic—mix well.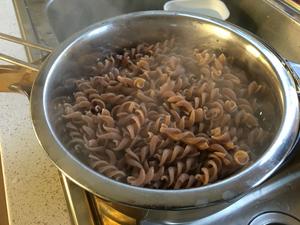 Add the flat leaf parsley and mix well. Checking seasoning and serve.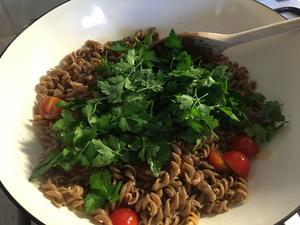 Remember the only thing you want to cook is the pasta. Everything else is just warmed!