John is a medical engineer—though bike trials is his love
Who are you and what do you?
My name is John and I work as a Medical engineer, although Bike trials (sport of riding a bike over obstacles) is my main love along with music and freediving (breath hold diving).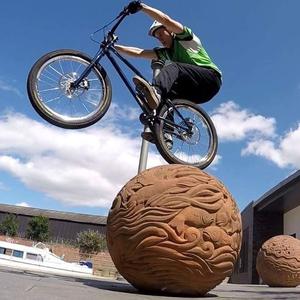 How long have you been eating plant based foods and what made you get into plant foods?
I've been eating plant based foods my whole life (32yrs) as I was a vegetarian from a young age and went vegan around 12 years ago. My dad has always been a vegetarian and I just knew from an early age that I didn't want to kill animals.
Do you like making food and what are your favourite foods?
I like cooking when time allows however it can be a hassle on a standard week night when tired from work and wanting to fit in bike riding. So I like to make practical food like a nice big vegetable stew that will last me several days.
Describe your day with plant foods.
On a typical work day:Something naughty like vegan pain au chocolate or toast for breakfast, sometimes a healthy fruit smoothie. Naughty crisps or flapjack for a snack then sandwiches for lunch or something I can get out (often something from Currant Affairs if in town). Then if I've been organised I have some of my vegetable stew for dinner. My partner and I usually alternate who makes dinner and we often try new ideas when we have time.
What's your favourite kitchen tool/gadget?
Our blender as it's great for soups & smoothies.
What one food could you not live without and which food do you miss the most since switching to plant based foods?
I don't know if drinks count but I'd struggle to survive for long without tea (with soya milk).I've been a vegan for so long that I really don't have any desire for animal products. I often have vegan meats but I doubt I'd actually like the actual meat. When I first went vegan I remember really liking a type of soya cheese called Swedish Soft (by Winner who used to make Swedish Glace before Unilever took over).
What do you consider the most important foods in your diet and why?
Hearty vegetables (potatoes, sweet potatoes, carrots, cabbage, kale etc.) and things like garlic and herbs for flavour and health. I'm unusual I suppose in that I like simple food, a healthy soup or stew and I'm happy. I don't really go in for gourmet stuff much except for special occasions. I like to view food as fuel for the body and eat what's healthy however I do have the odd weakness and limited time to cook.
Would you say you look and feel more healthy?
It's difficult to answer this one as I went vegan at the age of around 20 (12yrs ago) and although I do feel pretty healthy and strong I can't compare to what I'd feel like if I'd been eating animal products all these years. I do think I'd be more overweight if I wasn't a vegan as animal products tend to have more fat. I certainly don't feel I lack anything and seem able to crash my bike without breaking bones.
How has eating plant foods changed you?
The food itself hasn't really changed me however living in a way that is different to the other 99.5% does make you realise things such as how unsustainable animal products are and also how good people can do terrible things if they have been conditioned to believe it's normal.
What advice would you give to someone who is thinking about getting into plant based foods?
Go for it. Going vegan is one of the best decisions I ever made J.