Sweet potato and blackeye bean burger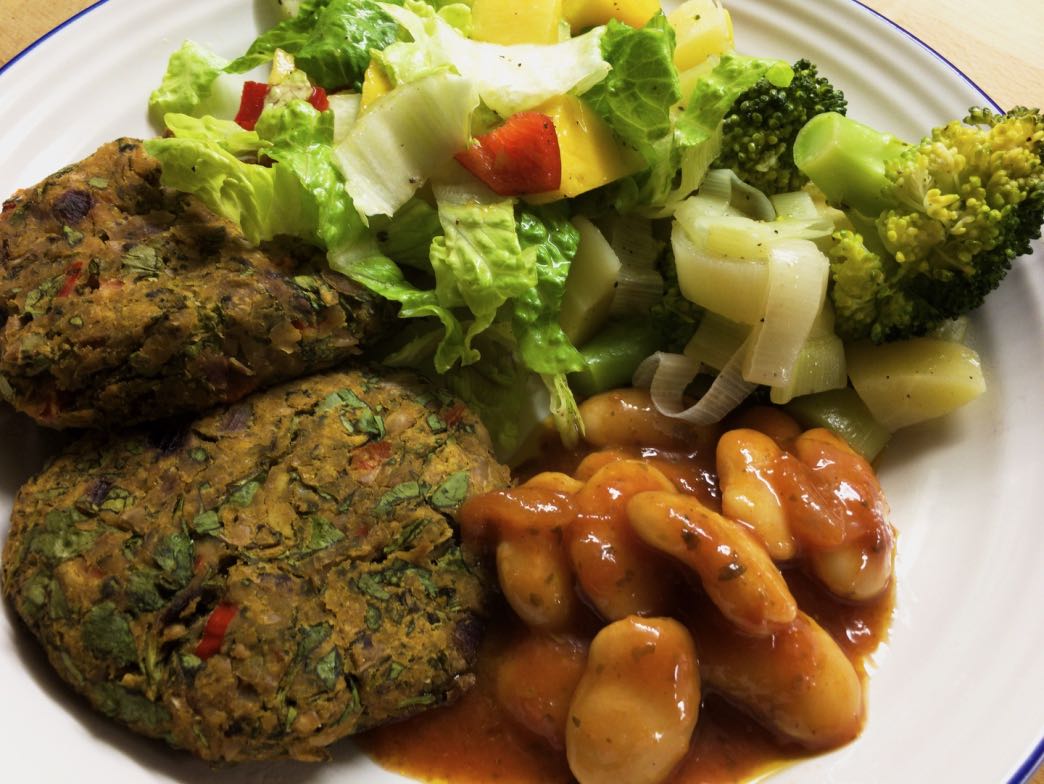 This is a simple recipe, no expensive kitchen gadgets or ingredients needed. Preparation can take from half an hour to an hour and a half in total—this can be in several parts. This depends if you cook the blackeye beans or buy them ready cooked. I'm not using a pressure cooker but if you did, the time is shorter. Cooking time is 10 to 40 minutes. This depends on the cooking method.
I've included rough quantities for some items. The best way to find out what works for you is to experiment.
Ingredients—basic
1 sweet potato - cooked
1 cup Blackeye beans - cooked
1 onion - chopped
2 garlic cloves- chopped
1/2 cup oats
Olive oil
Seasoning
Ingredients—flavour
Flat leaf parsley - chopped
Spinach - chopped (optional)
Red pepper diced
Carrot - grated
Seasoning
Olive oil
Apple cider vinegar or lemon juice
Cayenne (optional)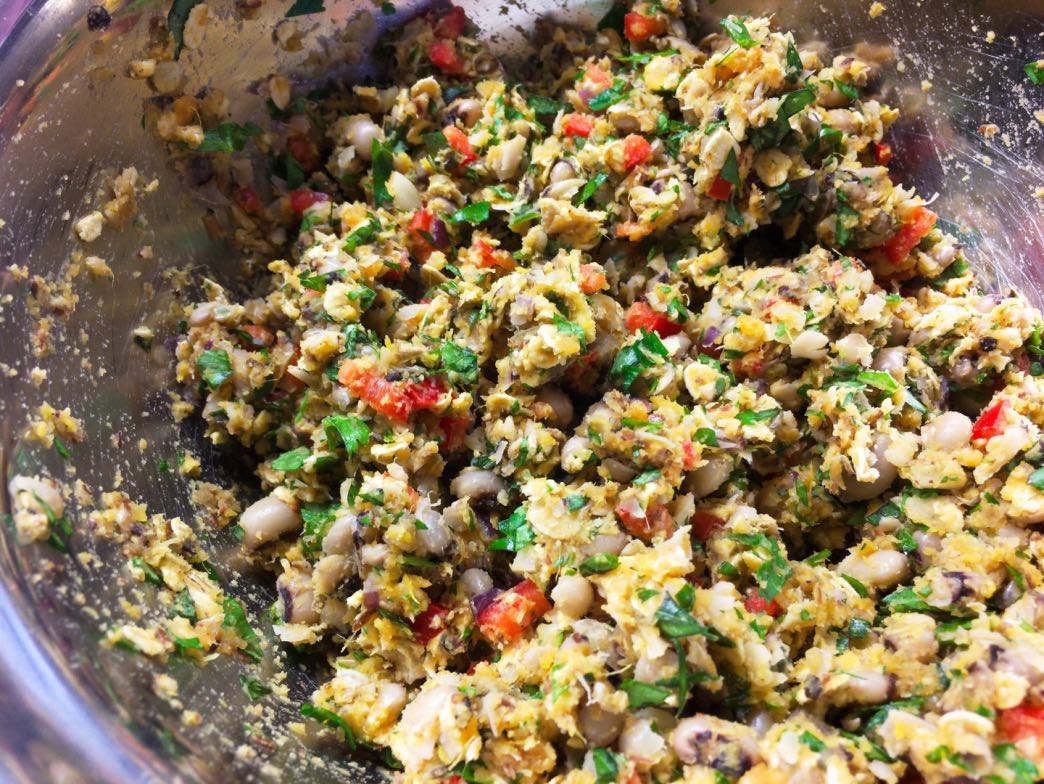 Method
Mash the sweet potato and blackeye beans with a potato masher or fork. Added some apple cider vinegar and seasoning to the mixture. Continue to mash but keep the mixture rough. You do not want to make it smooth. Check the taste—I find you need to add more seasoning than normal.
Sauté the onion and garlic in olive oil for a few minutes.
Add the mashed mixture to the oats, parsley, spinach, red pepper and carrots. Add the onions and garlic. Add a dash of olive oil, apple cider vinegar/lemon juice, seasoning and cayenne. Fold the ingredients until mixed. Check the taste and adjust. It is better to add small amounts of spices and seasoning and adjust. You cannot remove once added.
Scoop a small amount into your hand and form a burger. You decide how large you want them. Remember that a small burger will be easy to handle and cook. Place them on a baking sheet or greaseproof paper.
You can bake for fry the burgers. I baked mine at Gas Mark 5 (190ºC, 375ºF) for twenty minutes on each side. Your times will vary. It is better to check after 15 minutes and adjust. The frying time should be about 5 minutes on each side.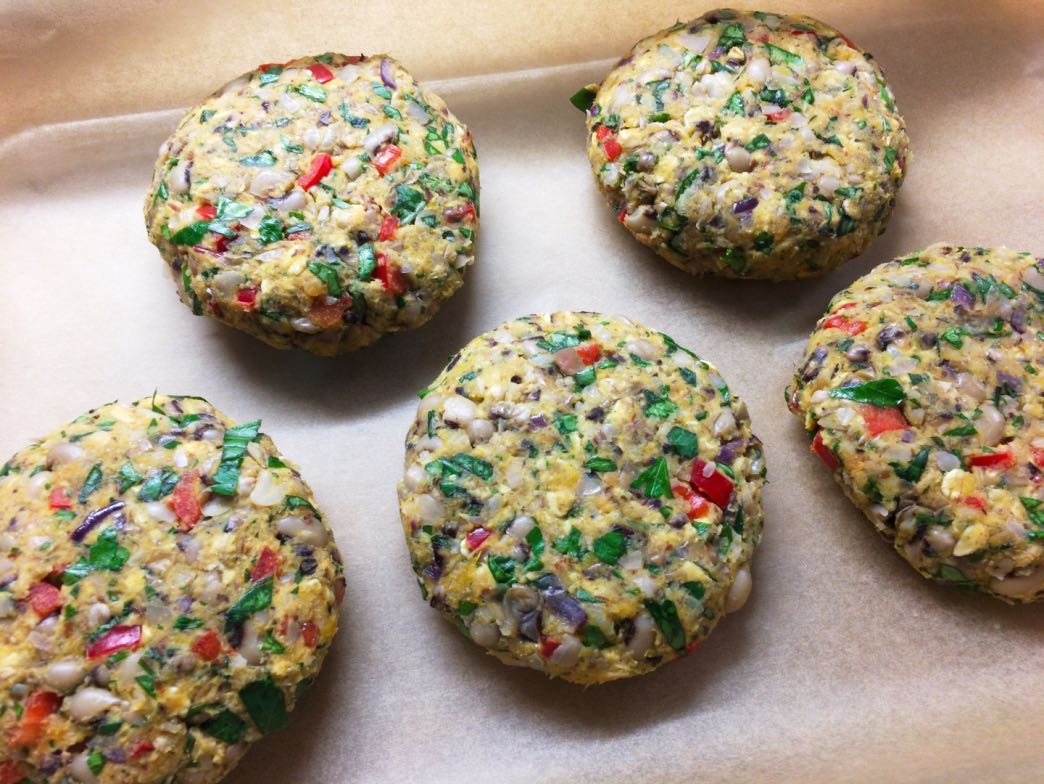 Ideas for flavouring
You can flavour the burgers in many different ways. I have used flat leaf parsley and basil. For something spicy, I used fresh fenugreek, coriander, ground cumin and cayenne. The best way is to experiment. Use the base ingredients as a starting point. Vary the taste (texture) with the flavour ingredients. Keep the olive oil, seasoning and apple cider vinegar of the flavour ingredients.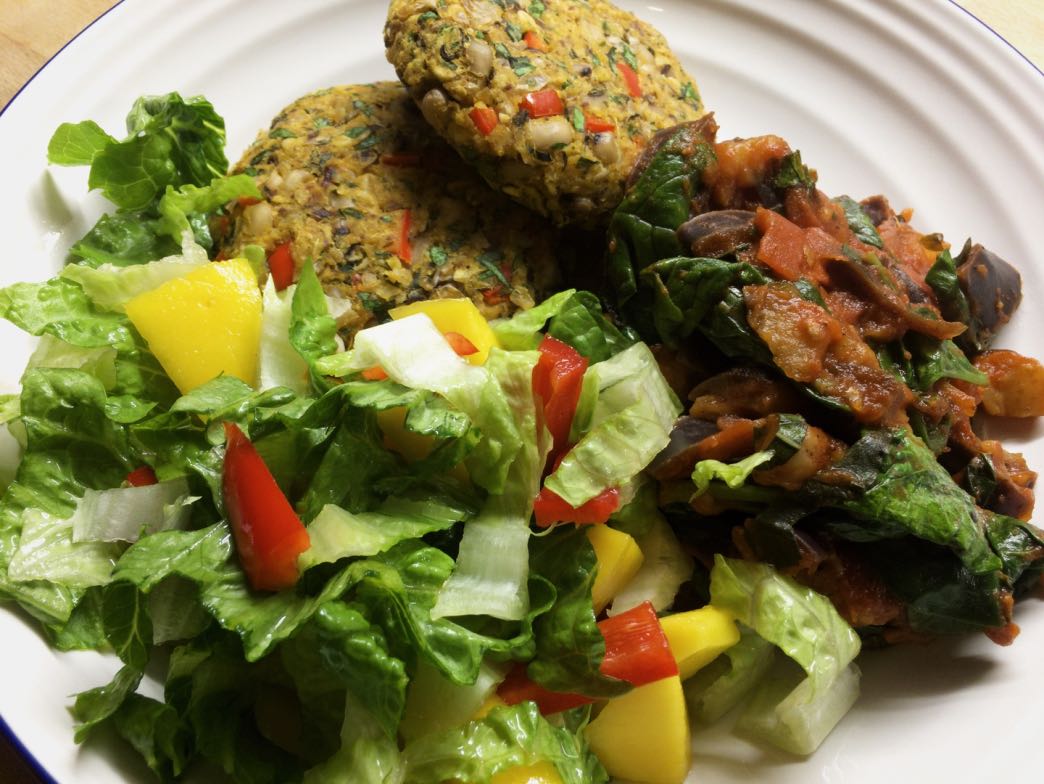 Binder
Oats should help bind everything. If you find the mixture is not sticking—the mixture might be dry. There are not enough sweet potato/blackeye beans. This should not happen unless you added too much of the flavour ingredients. You may need to add a tiny amount of water/olive oil or apple cider vinegar to compensate.
The first batch of burgers I made using oats and ground flax seeds. The second batch I made without oats or flax seeds and they did hold together but not as well. You should be fine with using oats. If you wanted a stronger bind, use ground flax or soaked chia seeds.
Have fun making them and if you have questions—email or tweet me.