Why you need a basic food pantry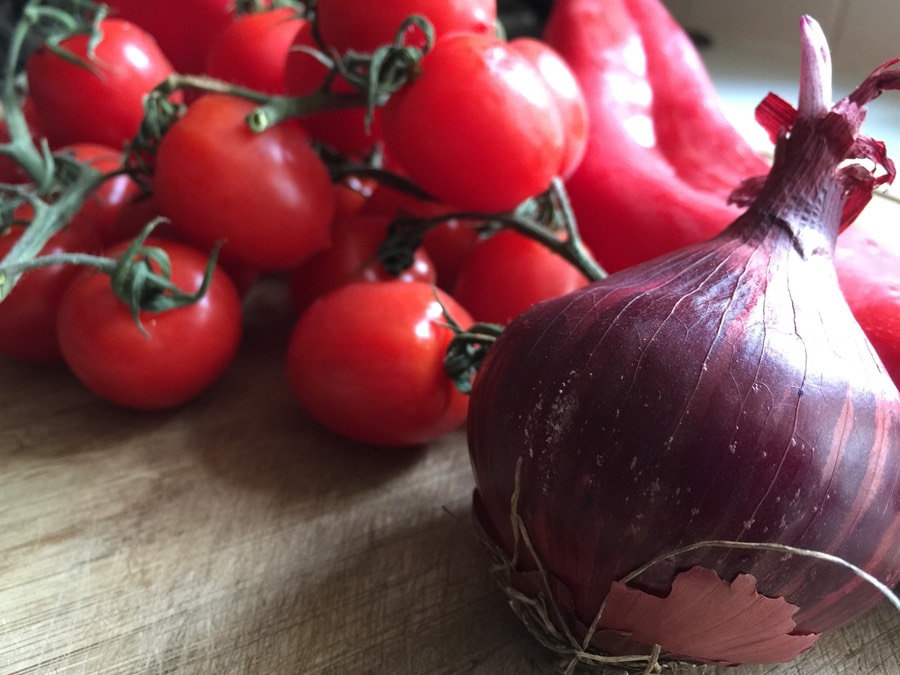 You want to cook but find it hard
Is cooking from 'scratch' hard? No, it is not—it requires practice, some planning and having a basic food pantry. The practice and planning are easy if you have a basic food pantry to work from.
Basic pantry
You need to have a basic food pantry if you want to make cooking easy. This basic food pantry is about ingredients that you like. Don't base it on what is on other peoples lists, unless you like what is on it.
What do I mean by a basic pantry?

Food and ingredients that you always keep. From these ingredients, you can make a meal without resorting to a recipe book. That you can combine with other ingredients to make a meal. The number of items on the list should be no more than 50. If it becomes too large, then you will struggle to keep it stocked. You want to use things that are cheap and within your budget. Some of these will be seasonal.

The list is not set in stone! You can change it as your tastes and the season changes. The key to a good list is to be flexible. It should work for you not against.

You could split the list into sections. For example dry, fresh, frozen, wet. I will share my list with you. It is in no particular order. It does change during the year. Currently, my list has 35 ingredients. This will change during the year based on seasonal fresh produce. Everything else will remain unchanged—unless I do not like something anymore. I still have the price column to fill.


Ingredients

Buying
Schedule

Organic
Origin
Price
Sweet potato
EW
 
M/SM
 
Onions
EW
 
M/SM
 
Tomato
EW
 
M/HF/SM
 
Leeks
FW
 
M
 
Frozen peas
FW
*
SM
 
Frozen green beans
FW
 
SM
 
Frozen sweet corn
FW
 
SM
 
Broccoli
EW
*
SM
 
Porridge
FM
*
HF
 
Almonds
FM
*
OL
 
Walnuts
FM
 
OL
 
Pappardelle pasta
FW
*
HF
 
Sweet peppers
EW
 
M
 
Salad
EW
*
HF/SM
 
Olive oil
FM
*
SM
 
Apple cider vinegar
FM
*
HF
 
Apples
EW
*
HF
 
Bananas
EW
 
SM
 
Flat leaf parsley
EW
 
M/HF
 
Coriander
EW
 
M
 
Garlic
FW
 
SM
 
Chopped dates
FM
*
OL
 
Linseed
FM
*
HF
 
Rice
FM
*
HF
 
Quinoa
FM
*
HF
 
100% chocolate buttons
FM
*
OL
 
Gram flour
FM
 
IG
 
Split red lentils - dry
FM
 
IG
 
Blackeye beans - dry
FM
 
IG
 
Chickpeas - dry
FM
 
IG
 
Soya yoghurt
FW
*
HF
 
Tomato puree
FW
*
HF/SM
 
Sunflower seeds
FM
*
HF
 
Pumpkin seeds
FM
*
OL
 
Tahini
FM
*
HF
 

There are items I need to buy every week (EW). There are other items that I buy once every few weeks (FW) and some every few months (FM). I have indicated if the food is organic by putting a * next to it. I state where I have bought the food from—origin: health food store (HF), market (M), supermarket (SM), Indian grocery (IG) and online (OL). I have listed the approximate cost of the ingredients (todo). This will vary during the year and the quantity purchased.

I could live on this list all year long. That is why it is important you create a list with ingredients you like. This will make life easy in the kitchen for you. You will enjoy cooking and you will not spend too much time figuring out what to make and how to make it. Once you get used to having a basic pantry.
Creating a list
The first step is to create your basic pantry. Start to identify the ingredients you like. Keep the processed foods to a few items. You want to be cooking from scratch. Find recipes that you like. That will not take too long to make. Remember that you can change a recipe to suit you. Use it as a starting place, then change the things you do not like in it. This will make it easy to prepare. Nothing is set in stone. Some of my recipes are from things I have eaten or seen a recipe of. I then think about how I can adapt it to the way I cook and the ingredients I like. With this way of thinking, I can keep my time cooking and expenses to the minimum.

I do buy other ingredients such as fresh berries, olives, Tortas biscuits, coconut flakes, tomatoes, papaya, mango, pineapple, popping corn, cabbage, cauliflower, courgettes, celery, celeriac, beetroot. This is not an exhaustive list. I buy them as and when I need them. Sometimes it will depend on seasonal availability. Other times it will depend if I find a bargain in the market or shops. With the fresh produce, I will only buy what I can eat, unless I'm dehydrating, fermenting or freezing it.

Having a basic pantry for me now is second nature. I don't have it written down anywhere. It is all in my head. I know what I need, when and where I need to get them from. Writing it down is a good idea. It will help create a better shopping and meal planning list. It will help to identify where is the best place to buy from. The dry pulses and lentils I buy from an Indian grocery because they are cheap. The bulk of fruit and vegetables from the market. Most of the organic items I buy from the health food store or online. Everything else will be from the supermarket.
Making food
Keep it simple, enjoy the foods and experiment. This is what a basic pantry of foods will allow you to do. Years ago I used to cook from packets and I used to spend hours in the kitchen! Things have changed in a dramatic way for me. Most of the food I make takes no more than 30 minutes, often much less. It did not happen overnight for me but you have to work at it. Remember it is about what foods you like. Then it becomes so much easier.

You might think that having a list will help you cook but you will be making the same food always. Remember this is a basic list, you will have other ingredients to use. Also with the basic ingredients, there are so many ways you can use them—experiment! One of my favourite meals is sweet potato and broccoli. Most of the time I have it steamed with seasoning, olive oil and apple cider vinegar. Sometimes I'll add things like pumpkin seeds or quinoa.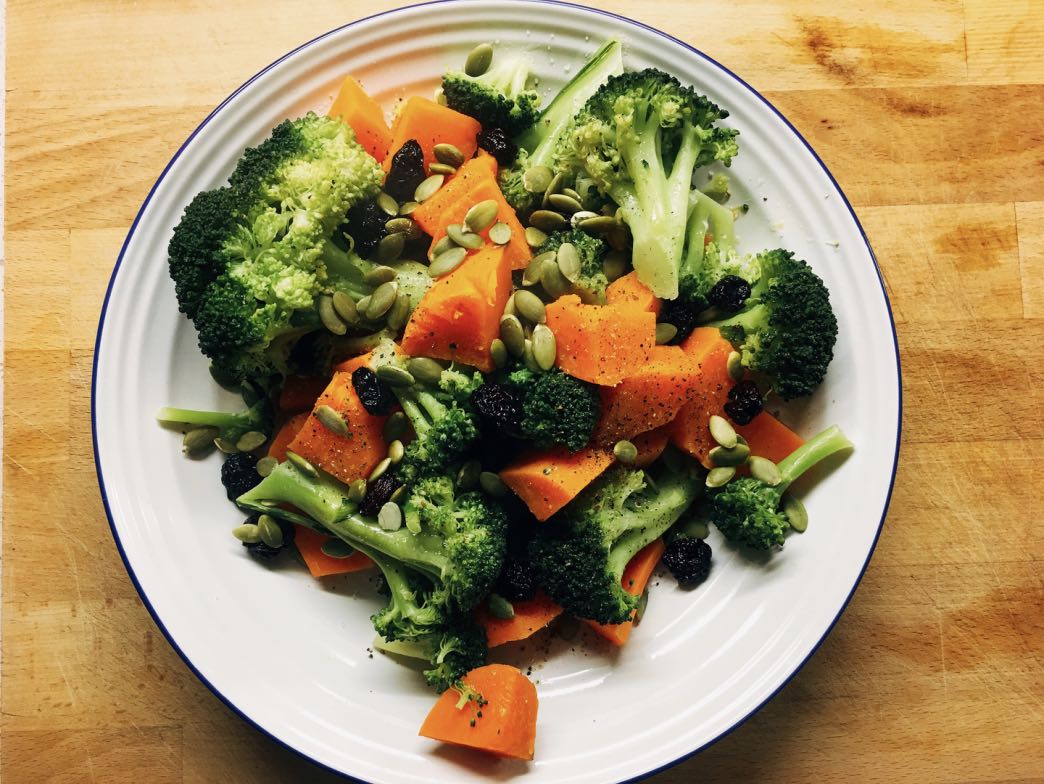 As I said—experiment! In the dish below I mashed the sweet potato. Added giant Greek butter beans bought from the health food store. Then added some spicy salad leaves.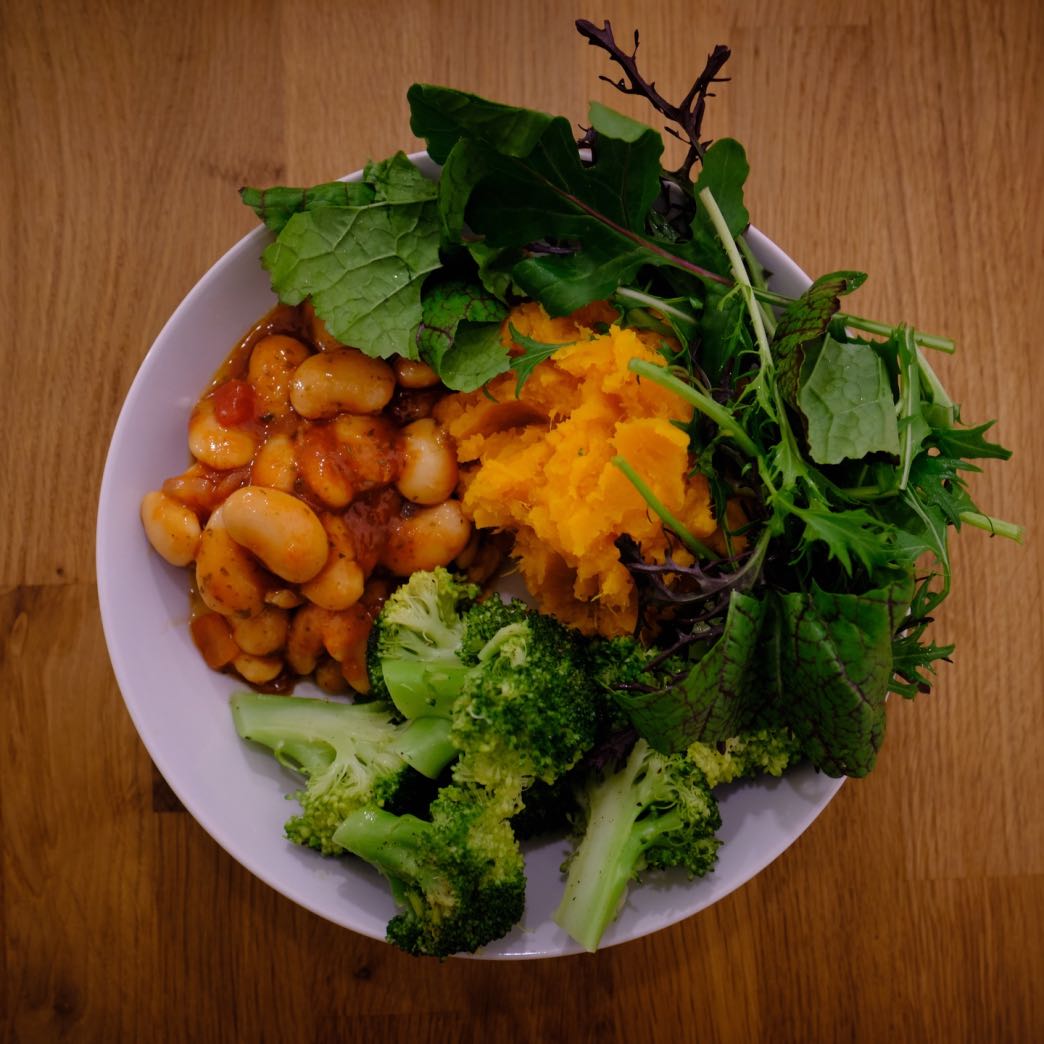 For plant-based milk, I can blend almonds with water and make almond milk. From my basic pantry, I can make other things that you can buy ready-made. That is another way I save money. Having a basic pantry is not limiting, if anything it is the opposite.

I have left out things like seasoning, dried herbs from the list. I have a selection of these:
Sea salt
Peppercorns
Ground cumin
Ground coriander
Cayenne pepper
Ground cinnamon
Turmeric
Bay leaf
Ground ginger
Oregano
Sage
Coriander seeds
Mustard seeds
Nigella seeds
Smoked paprika
Ground cardamom 
Cardamom
Cloves
This list is not exhaustive. 
My time make food is like a meditative experience. I enjoy myself and make good food every day. That is how want my food making experience to be. Start by creating some order in the kitchen by making a basic pantry list. I don't spend hours thinking about what to make. It is easy to make a meal for one person or more. You will feel less anxious and over time making food will become easy. One last tip: keep your food preparation tidy. When you finish making one part, clean the area/utensil ready for the next part. Working in a messy in the kitchen is not fun.