Belle Afrique a lawyer by day and a plant eater extraordinaire
Who are you and what do you?
I am a Lawyer by day, nomad at heart and plant eater extraordinaire all year round.
I post about my fun with food, travel and life on my Instagram at Belle Afrique and I have also started a new page The only way is natural by Belle Afrique where I will be largely focusing on food for nutrition and wellbeing. I'd love for you to follow both of these accounts.
How long have you been eating plant based foods and what made you get into plant foods?
I have been exclusively plant based for about three and a half years, but have been on the plant journey for about ten years, since cutting out animal products. My journey to plant lover extraordinaire started more than a decade ago when I began to learn about the harmful products in many common hair products traditionally used by black women to chemically straighten our hair. Once I learned that the ingredients in these hair products could impact on health, skin and even reproduction, I stopped using them and began looking for 'clean' beauty products. This developed my desire to better understand how our lifestyles can often have a detrimental impact on our wellbeing. My interest then progressed to other beauty products, including what we put on our skin which lead to me developing a boutique skin and hair brand and selling my natural and homemade products to friends, family, and people interested in natural cosmetology. I sold many products including natural body butters and blended oils, body scrubs, shampoos, conditioners, face masks and the like. I loved the brand, but with a busy lifestyle, the demand on products, and competing interests, I decided to stop trading a few years ago.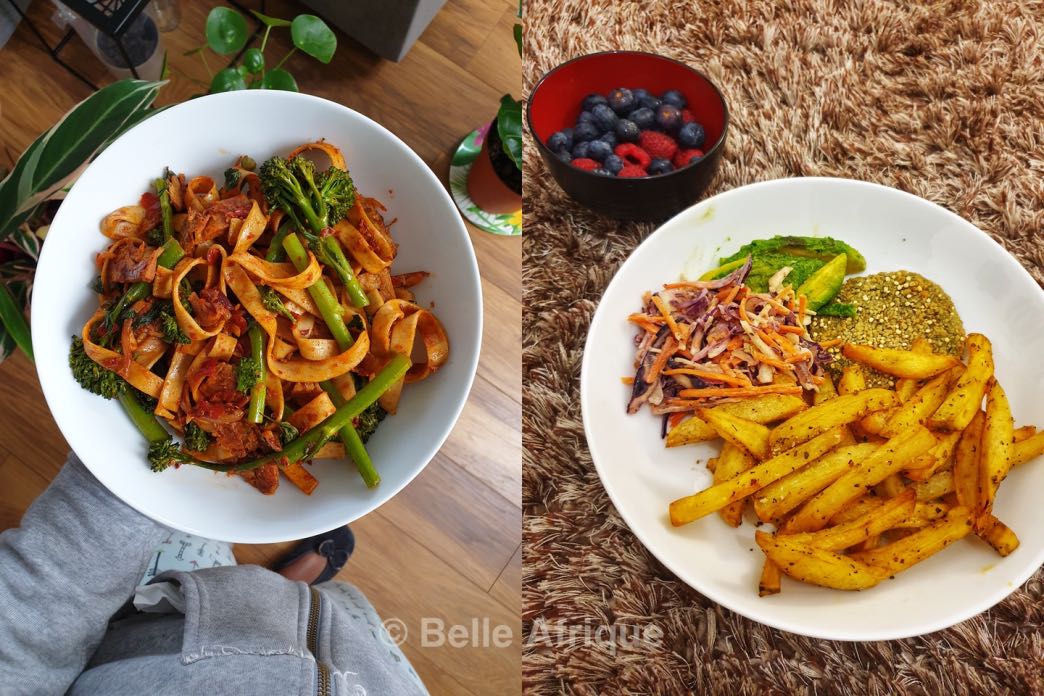 During the time I was developing 'Belle Afrique' (Beautiful Africa), which pays homage to the many rich resources traditionally used by people of  a similar heritage to me, I also became focused on how our external wellbeing was deeply connected to the foods we put in our bodies. I became concerned with traditional agricultural processes, farming techniques, and the health impact of many of the foods we consume, which are often high in saturated fats, raise cholesterol and often contributing to lifelong health ailments. I had also long been interested in having a more sustainable lifestyle, by reducing my impact on the environment and eating foods closer to their natural state.
The plant based lifestyle made sense to me, it meant I could eat foods the way they grew naturally from the ground, it meant I could prepare foods that were less refined/processed, and it meant that I could seek to get optimum nutrition from the foods I was consuming. Eating plant based also meant that I could be more compassionate to other living beings, by taking active steps to reduce water use, not contribute towards rainforest deforestation, ocean dead zones or animal suffering.
Do you like making food and what are your favourite foods?
I love preparing plant based foods. My favourite foods are anything colourful and tasty that gives substance to a meal. My favourite ingredients are jackfruit, which I use to make curries or stir fried dishes, ackee (a Caribbean fruit) which I use to make savoury dishes, and spelt, which I eat in a range of forms, including pasta, breads and cakes. I also love all sweet fruits, especially dates, figs, watermelons and all berries.
Describe your day with plant foods.
Breakfast during the winter months usually starts with porridge made with almond, oat or coconut milk and topped with lots of fruits. In the warmer months, my favourite breakfasts are fruit platters. On the weekend, I usually have something hot like avocado on toast or a meal made with ackee.
Lunch whilst at work is usually the leftover from dinner the night before. This is generally some kind of vegetable dish with quinoa or a pasta dish. At the weekends, I tend to make more elaborate meals, such as traditional foods like jollof rice (a tomato based rice dish), buddha bowls with lots of sides, and homemade cakes.
Dinner usually consists of one of the meals I have described above, and on the weekend I may be able to convince some friends to go out for a plant based dinner in one of the many London food spots.
What's your favourite kitchen tool/gadget?
When I'm making a cake, it's my Kenwood food processor. Other than that great knives for cutting all the fruit and vegetables are a must!
What one food could you not live without and which food do you miss the most since switching to plant based foods?
I think I'm obsessed with spelt…I try to avoid traditional gluten/wheat based foods, and find spelt to be a great alternative. Spelt is an ancient grain in the wheat family, but it is not processed in the same way, and it is not as refined. I have spelt in all varieties…spelt flour, spelt bread, spelt pasta, spelt cereals…bring on all the spelt!
Hmmm, in terms of foods I miss…I wouldn't say there is a food I miss, because I enjoy the foods I eat now. It does however take some getting used to having to navigate your way around eating out. I'm a pro now, especially when I pick the venue from the myriad of choices we have in and around London.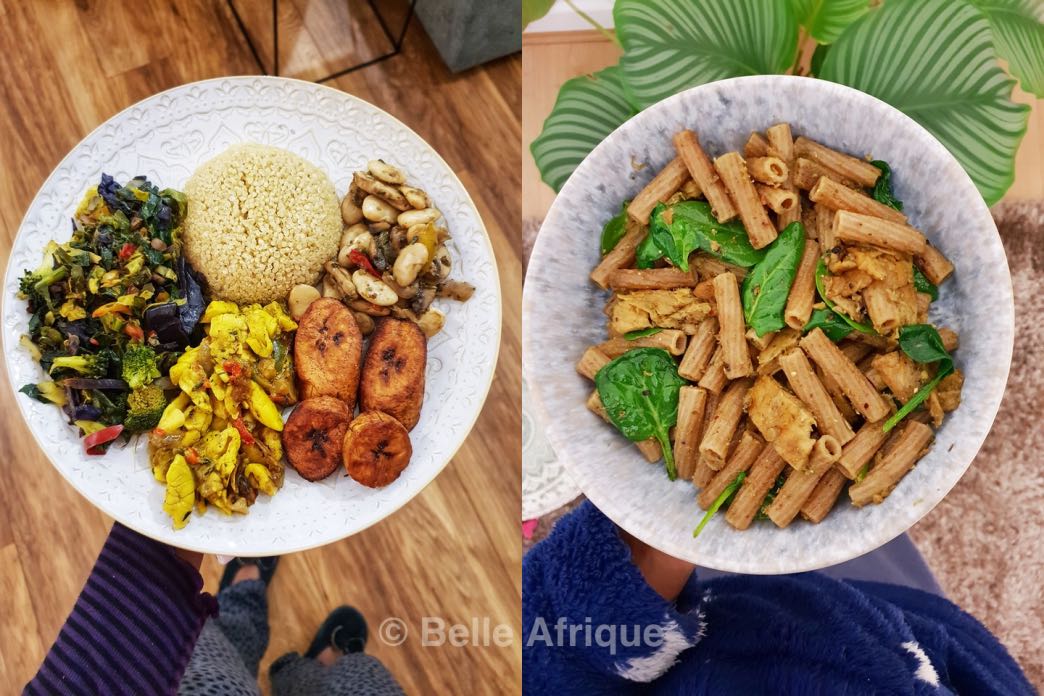 What do you consider the most important foods in your diet and why?
It's important to eat a healthy variety of veggies and fruits because they complement digestion by releasing enzymes into the gut which break down the foods we eat. The high fibre content also helps move the food along the digestive tract, which is beneficial for the manner in which we pass food through our system.
I would then say that all other consumed foods should be a healthy balance of macronutrients which provide the calories and energy needed for all bodily functions and micronutrients which are chemicals needed by the body in small amounts, also for healthy bodily function.
Macronutrients are foods rich in carbohydrates, proteins and fats, so think spelt, legumes, beans and avocados. Micronutrients are the many vitamins and minerals we can obtain from foods such as calcium, iron, magnesium and B12, which can be sourced from many plant sources and where certain people require it, through supplementation.
Would you say you look and feel more healthy?
For sure, I am able to maintain good general health by choosing foods and liquids which are nutrient dense. Plant foods are also beneficial to skin and hair health and help in managing a healthy weight.
How has eating plant foods changed you?
It has made me more aware of the finite resources that we have on earth and how our choices can impact us now, as well as the impact on future generations. It has definitely made me more experimental in the kitchen - I love trying new ingredients, cultural foods and herbs and spices. Eating plant foods has also allowed me to make more informed choices about the foods I eat, choosing the ones that are tasty as well as those that promote optimum health and wellbeing.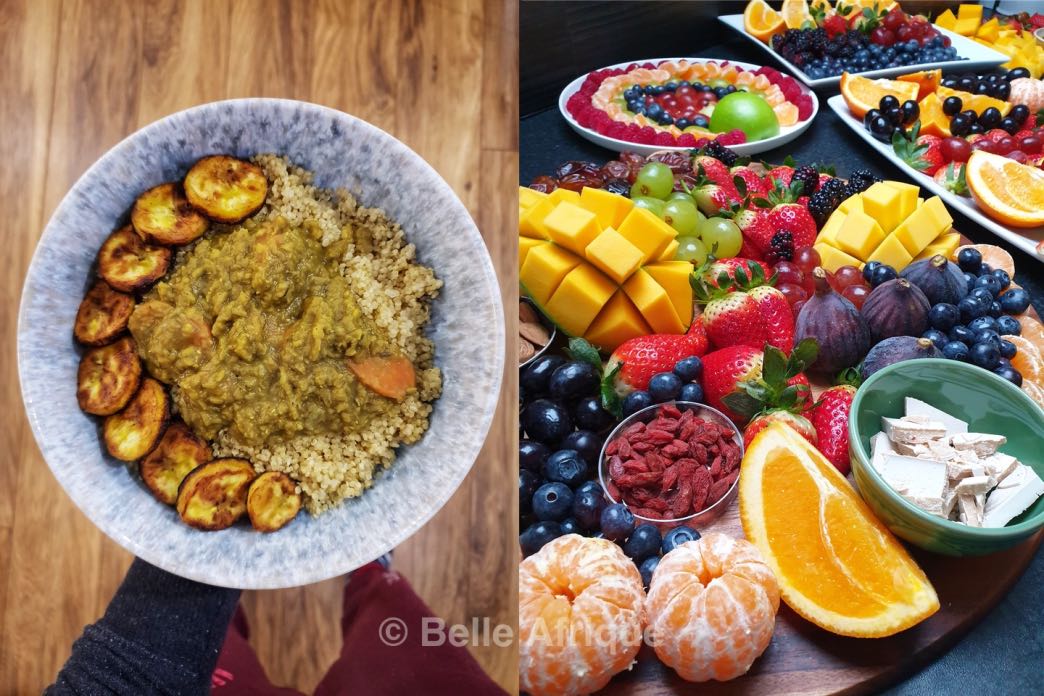 What advice would you give to someone who is thinking about getting into plant based foods?
I would say start with your intention, think about and decide why you want to get into plant based foods. Are you looking to improve your health? Want to live more sustainably? Do you care about animal welfare? Once you have set your intention, this 'why' remains seated within you, and you can always come back to reassess whether it still remains true for you when you need some encouragement or face challenges.
I think it is then beneficial to speak to your doctor if you are going to be cutting certain foods out, and/or as a minimum learn the basics about the core food groups needed and what may be 'missing' from a plant based diet. This way you can find alternatives that ensure you are not missing out on important nutrients.
I would also suggest watching some of the many documentaries available to better understand the impact of traditional western diets on health and the environment. My favourite documentary is H.O.P.E (What You Eat Matters), which you can view on YouTube.
Lastly, I would say have fun and always chose a variety…a variety of foods in a variety of colours.