Carrot halva—a classic Indian dessert made plantbased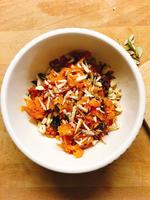 This is a dessert I remember well from my teenage days. It was super sweet yet very satisfying. Fast forward to today and I don't like very sweet anything. I'm 100% plantbased so no dairy or animal ingredients of any kind in my food. So how do you make carrot halva plantbased? Easy really—you just need to replace two ingredients, the milk and ghee (clarified butter) with a plant milk and coconut oil. And for me I don't need to add a huge amount of sugar and to make it even better I used homemade date paste—recipe below.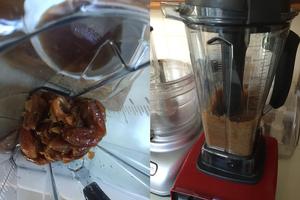 Ingredients
250g carrots roughly grated

1 cup of unsweetened plant milk

1 tbsp coconut oil

¼ tsp ground cardamom

¼ cup of raisins

1 to 2 tbsp sweetener of choice—I used date paste. See here on how to make it. Carrots are sweet already so go easy with the sweetener.

Handful of chopped almonds and/or pistachio
Method
Add the grated carrots, plant milk and the coconut oil into a large shallow heavy pan.

Cook all the ingredients on a medium heat—once the ingredients start to simmer, turn the heat down a little. Stir occasionally. 3. You want to cook the carrots until they are soft and all the liquid has gone.

Halfway through the cooking add the cardamom, raisins, sweetener and stir throughly.

If you need to add more plant milk because the carrots have not softened up enough, add a little more plant milk.

Carrot halva should be very soft and served warm. When it's cold it tastes very different.

Plate the warm carrot halva and sprinkle with the chopped nuts—serve. I don't think you need to serve it with anything and you don't need to eat big bowl full to be satisfied!